Discover the Beauty of Embroidered Tablecloths with Hella Jongerius at The Art Institute of Chicago
Discover the Beauty of Embroidered Tablecloths with Hella Jongerius at The Art Institute of Chicago
By:Admin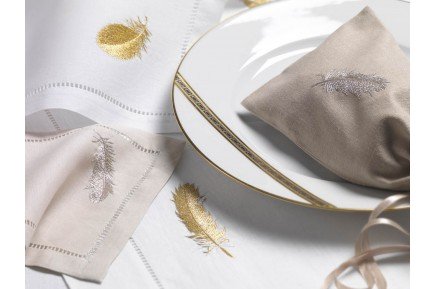 Embroidered
Tablecloth
by Hella Jongerius Featured at The Art Institute of Chicago Exhibition
The Art Institute of Chicago is proud to exhibit the stunning Embroidered Tablecloth by Hella Jongerius, one of the most influential contemporary designers of our time. This unique piece is part of the museum's exhibit on contemporary design, which highlights the intersection of art, craft, and technology in the world of design.
The Embroidered Tablecloth is a masterpiece of intricate design and craftsmanship. Made in 2000, it is a stunning example of Jongerius' innovative approach to design, which combines traditional techniques with modern materials and technology. The tablecloth is made from a special blend of cotton and polyester, which gives it a soft and supple texture, while the embroidery adds a touch of elegance and sophistication.
The tablecloth is adorned with vivid hues of blue, green, and purple, which were carefully chosen to complement the natural tones of the cotton and polyester fabric. Each stitch is executed with precision and skill, creating a mesmerizing pattern that draws the viewer in. The embroidery is not just a decorative element, but serves a functional purpose as well, as it helps to reinforce the fabric and prevent fraying.
Hella Jongerius is a Dutch industrial designer who is widely recognized for her experimental approach to design. She studied at the Eindhoven Design Academy and later went on to work for renowned designers like Jurgen Bey and Droog Design. In 1993, she founded her own design studio, Jongeriuslab, which has produced a wide range of award-winning designs, ranging from furniture to textiles and ceramics.
Jongerius is known for her bold use of color and her ability to seamlessly blend traditional craftsmanship with modern technology. She has collaborated with a number of leading brands, including Vitra, IKEA, and Maharam, and her designs are featured in major museums and galleries around the world.
The Embroidered Tablecloth is a perfect example of Jongerius' signature style, which combines intricate embroidery with bold, modern colors and shapes. The design is both functional and beautiful, making it a versatile piece that can be used in a variety of settings, from formal dinner parties to casual family meals.
In addition to the Embroidered Tablecloth, The Art Institute of Chicago's exhibit on contemporary design features a wide range of other groundbreaking designs, including furniture, lighting, and accessories. The exhibit is a testament to the power of design to shape our world and inspire us to think differently about the objects we use every day.
If you're in the Chicago area, be sure to visit The Art Institute of Chicago and see for yourself the stunning Embroidered Tablecloth by Hella Jongerius. You won't be disappointed by this one-of-a-kind masterpiece of design and craftsmanship.